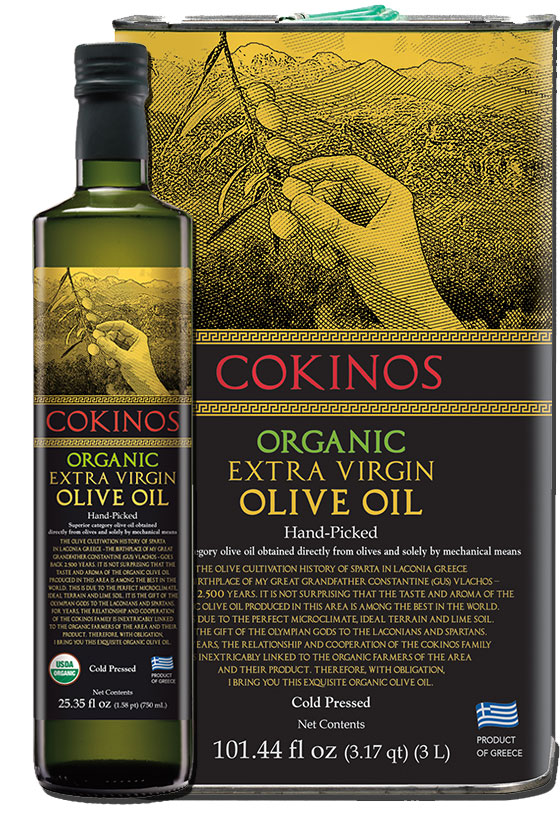 100% Organic Produced Extra Virgin Olive Oil
Contact Us
Our retail shopping cart is currently under development. For product inquiries, please click on the button above to contact us.
Sparta, Greece, sits between the Taygetos mountain range and Mount Parnon, a scenic and breathtaking land full of history and tradition. Out of this abundance comes Cokinos organic produced olive oil, an exclusive and rare blend created with only the highest quality olives from a land known for distinct taste and the finest selection of oils.
Hand-picked Athenolia, Koroneiki and Kalamata olives are the foundation for olive oil, made of the first press from a family-owned orchard near Mystras Castle in Sparta. Our exclusive batches are never left to chance, but crafted with a rare attention to detail in order to present you with one of the finest organic produced olive oils to come out of Greece.
Reserved for the Finest Tastes
Working with such a superior extra virgin olive oil requires a sophisticated palette, one that is accustomed to finer tastes and only the highest standards. For thousands of years, this Mediterranean staple has been used for sautéing, in sauces and marinades, and as a drizzle over a variety of plates. A selection of foods are made more delicious with the addition of organic produced olive oil, including vegetables, potatoes, seafood, and green salads.
Rare and exclusive Cokinos extra virgin olive oils are specially curated from Sparta's olive vineyards, a unique and spectacular beauty that surpasses more mediocre lands. While some oils may claim to be the finest, our commitment to quality far surpasses any cheap version with a fancy name. Anyone can secure ordinary oils; only the best come from Cokinos.
The exclusive combination of Athenolia, Koroneiki and Kalamata olives, rich family history, and personal attention are blended together to create the finest olive oil to come from the region of Sparta. Whether you pair your oil with fine dishes or dip fresh bread for an afternoon treat, the deep taste and rich flavor will come through every time. Our products remind you why handcrafted tastes so much better.
Exclusive Handcrafted Oils
When your taste requires only the best, organic produced extra virgin olive oil is the only option. We are confident that once you taste sophistication, you will never go back. After all, nothing can compare to a first press batch of olives picked from a family orchard in the heart of Sparta.
Growing and caring for olives is a unique responsibility, one that shows through in the distinct taste of Cokinos extra virgin olive oil. Not everyone has the privilege of enjoying such a remarkable creation, so we invite you to take part in a rare and delicious opportunity.